---
WHY WAR AGAIN IN NAGORNO-KARABAKH?
ARARAT KOSTANIAN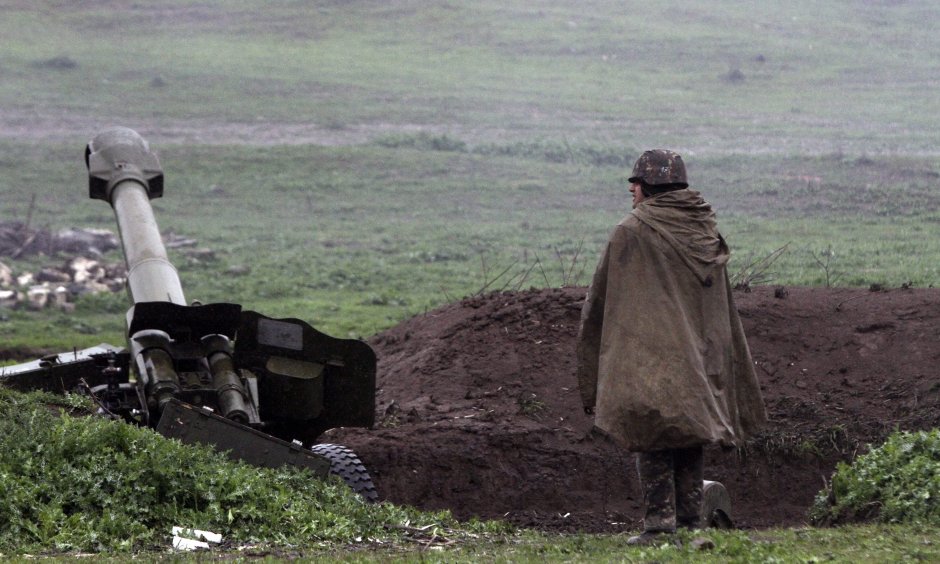 An unexpected war erupted after 22 years of cease-fire, not very far from Middle East, known as Nagorno-karabakh conflict between self-determined karabakh and Azerbaijan over disputed area belonged to Armenia for centuries, where a country such as Azerbaijan was not existed on the world map. The disputed area became part of Azerbaijan during the Soviet regime, a decision by Stalin back then in 1920.

Prior to the collapse of the Soviet Union, nationalistic sentiments started to flourish among the people of Caucasus, nationalist movements have emerged and clashes started between majority Armenians and minority Azeris in Nagorno-Karabakh due to the anti-Armenian riots in key cities such as Baku and Kirovabad which caused massive expulsions of Armenians and pogrom known as Sumgait incidents in 1988 (Karabakhfacts, "The Sumgait Syndrome. Anatomy of Racism in Azerbaijan", http://karabakhfacts.com/tag/massacres-in-sumgait/.).

Full-scale war started at the beginning of 90s, after Armenia formed and sent groups of volunteer fighters ready to defend the Armenians of Nagorno Karabakh, that were under existential threat. To keep it short, the war ended with a cease-fire in 1994 after Armenia deliberately took back Nakorno-Karabakh and 7 more strips of lands implementing the right for self-determination and subsequently Armenians of Nagorno Karabakh declared independency with a referendum as the republic of Karabakh in 1991 by referendum. To note, Armenia hasn't recognized the new republic as a sovereign state yet, but stands as a supporter. The purpose of writing this article is to answer why the war started again in Nagorno-Karabakh and why now?


If we go back and look at the period after the cease-fire, where it was evident that Azerbaijan had more capabilities in turning Azerbaijan into a developed country, but of course within the frame of South Caucasus, Azerbaijan's rich geography with massive oil and gas pipelines and sea port; key factors for developing any country in our reality. Armenia on the contrary, had corrupted regime (Human Right Watch, "Democracy on Rocky Ground', https://www.hrw.org/report/2009/02/25/democracy-rocky-ground/armenias-disputed-2008-presidential-election-post-election.) (1998-2016), poor economy, could develop in agriculture and science, only if could gain expected amount of money for investments. Under this condition with closed borders by Turkey and Azerbaijan, Armenia is not able to develop. as the first president of Armenia Levon Ter-Petrossian (1991-1998) claimed at that time in his famous essay "War or Peace" urging both sides to be engaged in peaceful negotiations (Levon Ter Petrossian, Page, Armeniapedia, http://www.armeniapedia.org/wiki/Levon_Ter-Petrossian.). Thus, as it is clear, the 22 years of status-quo has mostly served Azerbaijan in buying professional-heavy arms from Russia and Israel (Joshua Kucera, "Azerbaijan Makes Massive Israeli Weapons Purchase -- But Not Because of Iran", EURASIANET.org, http://www.eurasianet.org/node/65053) and improving the army to a level where Azerbaijan compete or even be better than Nagorno-Karabakh's official army, in order to return contested territories back to Azerbaijan by force (Tert, No to hate-filled war-rhetoric on Nagorno-Karabakh conflict and favoritism – EAFJD, http://www.tert.am/en/news/2016/01/13/change/1897327.).

The 4 days war have showed that one of the reasons of this war is the recent imbalance in the military power between Armenia and Azerbaijan. Thus, Aliev's regime felt ready for a new full scale war as Vladimir Karapetian (Chairman of Foreign Relations Committee, Armenian National Congress) mentioned in his interview. Moreover, this short-term war was meant to address Azerbaijanis that Aliev's regime have worked highly on improving the capabilities of the army, to defend itself from the expected anti-government demonstrations after the deficit in oil prices; taking into account, that the economy of Azerbaijan is mainly based on oil transfers and 40% of Israel's oil comes from Azerbaijan. (Ephraim Sneh, Why Israel is staying silent on Azerbaijan-Armenia conflict, http://www.al-monitor.com/pulse/originals/2016/04/israel-keeps-silent-ally-azerbaijan-conflict-armenia.html#ixzz46GMtNBxa.)

The 4 days war proved that the Nagorno-Karabakh is not a frozen-isolated conflict. The Syrian civil war brought Turkey and Russia nearly on the brick of war and their rivalry shifted from the Middle East to South Caucasus. To keep in mind, that the situation here is not as black and white in terms of strategic allies as some experts assume. Russia under Putin, is trying to maintain neutrality as being the main arms supplier to Azerbaijan in all these years, but at the same time has strategic treaty with Armenia (ARTSAKHpress, "Azerbaijan not to replace Armenia as strategic ally: Russian commentator", http://artsakhpress.am/eng/news/42492/azerbaijan-not-to-replace-armenia-as-strategic-ally-russian-commentator.html.) and a base close to Armenian-Turkish borders. As we know, Russia is facing difficult time in its foreign policy, especially in Ukraine and Syria, plus the escalation of Nagorno-Karabakh conflict. Under this difficult condition, Russia is facing anti-Russian demonstrations in Armenia (Armenia Liberty, "Armenians Protest Against Russian Arms Sales To Azerbaijan",http://www.rferl.org/content/armenia-protest-russian-arm-sales-to-azerbaijan/27673173.html.), in front of the Russian Embassy by young intellectuals blaming Russia for selling arms to Azerbaijan, after the Russian official announced that they have agreement with
Azerbaijan to send more arms (REUTERS, "Russia says won't halt arms sales to arch foes Armenia and Azerbaijan", http://www.reuters.com/article/us-nagorno-karabakh-russia-arms-idUSKCN0X60DS.). As it is said, at the end Russia should choose either selling arms to Azerbaijan or losing Armenia as an ally in the region; which is very dangerous statement that can lead Armenia to become vulnerable. At the same time, Turkey's isolation pushed Erdogan to host the Organization of Islamic Cooperation (OIC) meeting in Turkey and presented the conflict as the only aggressor was Armenia and the meeting members signed a declaration to support Azerbaijan. Iran's president Rouhani was present, but left the meeting back to Iran on the last day of the meeting. Turkey will knock every door in order to be part of the peaceful negotiation, which will not last long. The only legitimate body for solving this conflict is the OSCE Minsk group, and reaching to other continents to gain support is waste of energy, which could cause disappointment.

Putin as it seems, deliberately willing to integrate Azerbaijan in EAEC (Eurasian Economic Community), (ARMENPRESS, " Azerbaijan is not dismissing possibility of joining Eurasian economic union", http://armenpress.am/eng/news/820538/azerbaijan-is-not-dismissing-possibility-of-joining-eurasian-economic-union.html.) in order to diminish Turkey's involvement in South Caucasus. On the other side, Turkey seriously embodied and announced his full support to Azerbaijan. Turkey, specially the AKP party by time started to unravel, if we point the failed zero-sum policy and its involvement in the tricky war by taking side, which caused the Syrian civil war to spill over causing suicide attacks in Ankara, at the heart of the governmental area. Erdogan supported Aliev, thinking that the war will end up with Azerbaijan's victory which could be possible to take advantage in negotiations with Russia. This strategy failed as well, because the OSCE (Organization for Security and Co-operation in Europe) is the only Legitimate institution with representatives from (Russia, France and the United States) approved to solve the Nagorno-Karabakh conflict with peaceful negotiations, which means Azerbaijan broke the law and vigorously shifted to offensive operations. The 4 days war ended with a cease-fire imposed by Russia for unknown time.

The Nakorno-Karabakh war brought world's attention to South Caucasus again, one more time after more than two decades. Corrupted regimes both in Armenia and Azerbaijan nurtured hatred-enmity among the people of the region and the status quo was beneficial mostly for such regimes of Robert Kocharian clan and Ilham Aliev's billionaire family members (The Panama Papers, "How Family that Runs Azerbaijan Built an Empire of Hidden Wealth", https://panamapapers.icij.org/20160404-azerbaijan-hidden-wealth.html.). To end this catastrophic situation, only peaceful settlement and readiness for peaceful coexistence could turn the region into more prospering place, capable of showing own will, instead of remaining puppets with miserable population and constant fear of war.
PUBLICATIONS
2576 reads

| 25.04.2016